Quality is the means through which an institution can guarantee with confidence and certainty, that the standards of its educational provision are being maintained and enhanced. Quality has become an in-expendable part of augmentation plan of Higher Education espoused by the Higher Education Commission.
Quality in higher education is a dynamic entity which is the outcome of interaction among many factors including inter alia, leadership, quality of faculty and students, infrastructure facilities, research and learning environment, governance, strategic planning, assessment procedures, and market force.
University of AJ&K is moving ahead on the path of tremendous progress in higher learning sector using human and financial resources to increase the access to programs and using all cautions to assure quality of the increased base of higher learning programs.
The self evaluation system is being introduced in the university. The process is directed to enhance the quality of education compatible to the international standard.
The Quality Enhancement Cell was initially established at Muzaffarabad in 2005. Prof. Dr. Habib-ur-Rehman, SI, Vice Chancellor, was the first Dean. After the earthquake on Oct. 08, 2005, it was temporarily shifted to Camp Office Islamabad. On Sep. 09, 2006, Prof. Dr. Muhammad Sarwar Ahmad took the charge as Director QEC and its office shifted in the premises of Ali Ahmed Shah University College of Engineering & Technology (AAS UCET), Mirpur A.K. AAS UCET has been upgraded to Mirpur University of Science & Technology (MUST) since July 01, 2009, so it was again shifted to Muzaffarabad City Campus.
QEC Introduction
In recent years it has become an obligation that institutions of higher education demonstrate the effectiveness of their academic programs in providing high quality education that positively impacts students. Furthermore, most accrediting bodies and others concerned with quality assurance are requesting that institutions assess students' learning outcomes as a means of improving academic programs. This has led The Higher Education Commission (HEC) to develop methods for assessing the quality of academic program.
Assessment is a systematic process of gathering, reviewing and using important quantitative and qualitative data and information from multiple and diverse sources about educational programs, for the purpose of improving student learning, and evaluating whether academic and learning standards are being met. The process culminates when assessment results are used to improve student learning. A successful assessment program includes the following:
1. Purpose identification
2. Outcomes identification
3. Measurements and evaluation design
4. Data collection
5. Analysis and evaluation
6. Decision-making regarding actions to be taken.
The purpose of this document is to outline the process of conducting self-assessment (SA) of academic programs. It is HEC that requires universities to conduct periodic self- assessment for its academic programs in order to improve them and ensure high academic standards. Self-assessment is an important tool for academic quality assurance and provides feedback for faculty and administration to initiate action plans for improvement.
Q.E.C Activities
Quality Enhancement Cell UAJ&K has organized three days training on "Teaching Practices & Research Practice" for faculty members of affiliated colleges at College of Education Bagh
QEC UAJK has organized one day workshop for the faculty member on FM Knowledge CAASE 2014 Methodology for Mentoring of Graduates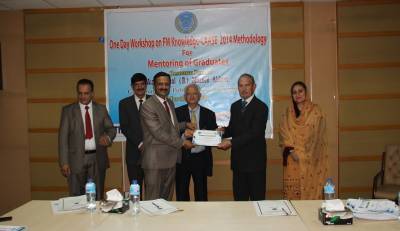 Prof. Dr. Ayaz Arif Director QEC and Imran Maqbool Abbasi Deputy Director QEC are receiving best performance award from Dr. Nadia Tahir Managing Director QAA-HEC.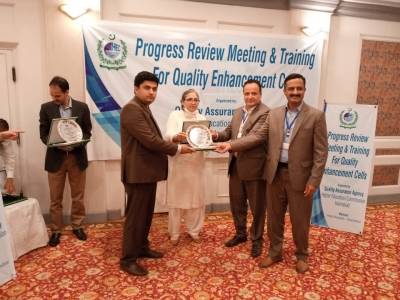 The Quality Enhancement Cell UAJ&K Assessment Team, Dr. Ammir Assistant professor Mathematics, Mr.Imran Maqbool Abbasi Deputy Director QEC and Mr. Naqash have visited Chinnar Degree College Bagh for the evaluation of BS- Mathematics Program.
Deputy Director QEC, UAJ&K has participated as a resource person in a one day workshop entitled " QEC Process and Challenges"  Organised by QEC Women University Bagh.
Director Quality Enhancement Cell
Dr. Ayaz Arif Khan
Phone(office):05822.960472
Email:director.qec@ajku.edu.pk
Assistant Director
Imran Maqbool Abbasi
Phone(office):05822.960472