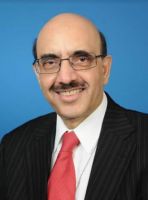 I am delighted to extend my felicitations to the University of Azad Jammu and Kashmir on successfully completing more than three decades of academic excellence. About 38 years back, the University of Azad Jammu and Kashmir was established with a view to giving higher education to the youth of Azad Jammu and Kashmir and Pakistan.
Higher education and its application in practical fields is imperative for the economic growth of a nation and cannot be overlooked. The University of Azad Jammu and Kashmir is pursuing its mission to deliver quality education to young students.
I am pleased to observe that the University, despite its accommodation and financial constraints, has been able to attain good ranking among national universities. The University is staffed with highly qualified, committed and dedicated faculty led by the Vice Chancellor. They are working in an atmosphere conductive to learning and research activities. I am happy to see that the University is striving hard to achieve a prominent position at national and international level by creating a dynamic educational environment.
I am confident that the students will become valuable members of a rapidly changing society which requires responsible and participative global citizens. The University is alive to the needs and necessities of the changing times. It has given its students access to the multiple fields of learning and introduced many new disciplines.
I am glad that the University is also focusing on the development of collaboration with foreign universities to enhance exchange programs of faculty, staff and students. A number of faculty and students are pursuing their advanced level education in renowned Universities of Turkey.
I congratulate the Vice Chancellor UAJK for establishing the China Pakistan Economic Corridor (CPEC) Center of Excellence at the Kashmir Institute of Economics (KIE), UAJK. This step of the Vice Chancellor will provide the students and faculty an opportunity to keep themselves abreast of the information to derive the benefits from this grand game changer.
I am happy to share that the State Bank of Pakistan (SBP) has established Ghulam Ishaq Khan Memorial Chair at the Department of Islamic Economy & Banking (DIEB), Kashmir Institute of Economics UAJK. The Chair will enhance the standard of teaching and research in economics, especially in the fields of monetary policy, exchange rate management, capital flows, financial sector stability, and economic growth in the country with a view to bring students at par with international standards.
Similarly the arrangements of Turkish and Chinese Language courses to promote Turkish and China Languages are appreciable.
I am confident that graduates of this University will positively contribute to the development of Azad Kashmir and Pakistan and prove themselves to be role models as professionals.